Star Hotel Solution
Five-star hotels are known for their luxury, comfort, and attention to detail. One crucial element that contributes to the overall experience of guests is the design and functionality of room doors. In this article, we'll explore the key features of room doors in five-star hotels and discuss various solutions to common issues, focusing on security, privacy, accessibility, aesthetics, maintenance, and guest experience.

Room Door Common Pain Points In Star Hotel Solutions
Privacy Issues
Noise from the hallway and lack of privacy indicators
Accessibility Challenges
Doors may not be wheelchair-friendly
Aesthetic Mismatch
Doors might not align with the room's design
Guest Experience
Rough workmanship, live experience and psychological expectations are low.
Guest Room Door Key Features of Five-Star Hotel Solution

Stylish And Elegant
Beautiful. Set the tone for the interior of the room, make the overall hotel match better, and reflect the high-end, noble and grand style.


Secure
Ensuring the safety of guests and their belongings is the most basic requirement and guarantee, for which there are specific security solutions.


Soundproof
The sound in the guest rooms does not exceed 40 decibels from the hallway, minimizing interference in the corridors and ensuring the best experience for guests.


User-Friendly
The door opens and closes smoothly, and guests and employees can easily operate door locks, door bolts, etc., making it simple and convenient to use.


Durable
Hardware products undergo strict endurance tests for times of use, and with quality-assured doors, they can withstand continuous use and ensure service life.


Customizable
Finishing textures, colors, styles, personalized designs, etc. can be customized to reflect the hotel's brand and atmosphere.

Part Of Guest Room Door In Star Hotel Solution
Special-Shaped Custom-Style Hotel Style

Integrating comprehensive designs such as wainscoting and ceilings, there are color combinations such as arc shapes and irregular shapes.
Technological Texture Regular Finishing Style

Chain hotel type, unified brand and unified style matching of each hotel product.
Solid Color Simple Modern Design Style

The simple, light and luxurious style is suitable for the overall bright hotel space.
Diversified Special Customized Style

There is no obvious single label, the design is diversified, and it involves rich materials.
Warm reminder:Due to the different characteristics and aesthetics of each hotel project, not all of the above styles may win your favor. We can do specific customization and product design based on your hotel project and actual needs.
Hotel Star Rating International Reference Standard
Hotel Star Rating List

Hotel Space

Room Type

3 Star

4 Star

5 Star

Room Space

Guest Room

≥30 Rooms

≥50 Rooms

≥50 Rooms

Room Size

≥20Sqm

≥20Sqm

Guest Room With Bathroom

●

●

●

Single room

●

●

●

Suite

●

●

●

Luxury Suite

≥3 Units

≥5 Units

Disabled Room

●

●

Restaurant Space

Chinese Restaurant

●

●

●

Western Restaurant

●

●

●

Western Kitchen

●

●

●

Cafe

●

●

●

Banquet Single Room

●

●

●

Ballroom

●

●

●

Independent Enclosed Bar

●

●

●

Dining Room

●

●

Kitchen Space

Cold Dish Room

●

●

●

Operation Room

●

●

●

Cold Storage

●

●

●

Dishwashing Room

●

●

●

Soundproof,Heatproof,Odorproof Spring Door

●

●

●

Public Space

Public Toilet

●

●

●

Hotel Mall

●

●

Business Center

●

●

Hotel Infirmary

●

●

Conference Hall

●

Health Centre

●

Gym Centre

●
How To Make Hotel Rooms Better Soundproofed In Star Hotel Solution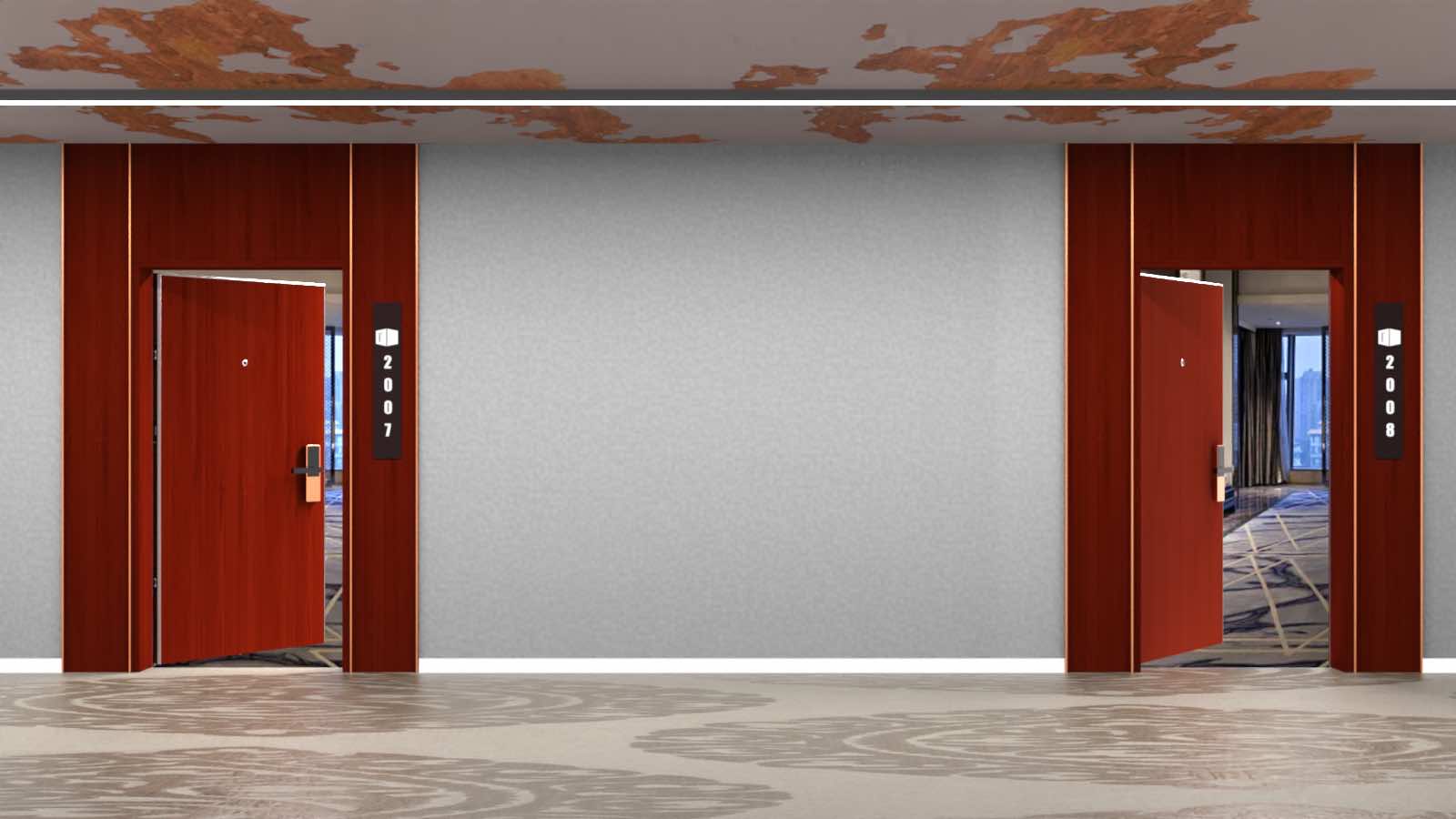 Active Sound Insulation Solution For Room Materials
If all rooms are made of sound insulation materials, the noise will be isolated at the source. This is an active sound insulation solution. That is, the sound in the room itself will not be transmitted to other spaces due to the sound insulation effect. At the same time, because other spaces are also soundproofed, the overall sound insulation effect is better.
Special carpets are used in the passages and guest rooms, which have very good sound absorption and shock absorption, further enhancing the sound insulation effect.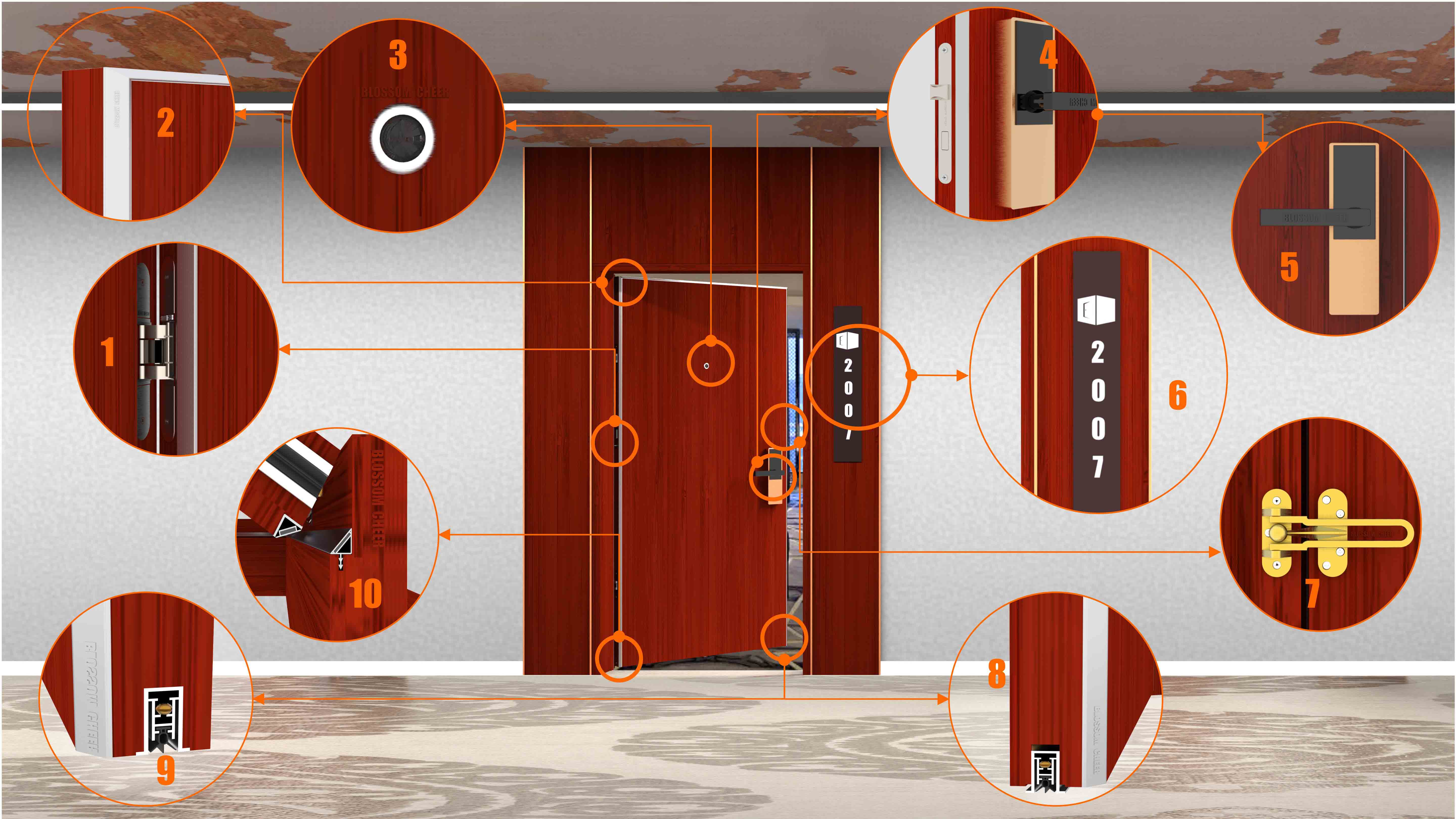 Hotel Room Door Soundproofing Treatments And Methods
Better sound insulation on hotel room doors provides a better accommodation experience.
● Hotel-Specific Sealing Technology

BLOSSOM CHEER adopts a 45-degree angle-cut magnetic strip process structure, so that there is no gap between the door leaf and the door frame, absolutely ensuring the sealing, which is far better than conventional rubber sealing strips, and brings a better sound insulation effect.
● Use Soundproof Door Panels

If a door is made of thin wood, it will usually have poor sound insulation. BLOSSOM CHEER's hotel room doors are made of solid wood or heavy & thicken materials, and also will tubular core panels with excellent sound insulation effects. They meet the standards of a 5-star hotel in terms of quality, finish texture, aesthetics, and environmental protection.
● Install Door Bottom Sound Insulation Strips

Generally speaking, there will be 10mm suspension from the ground to bottom of door panel. BLOSSOM CHEER door panel are equipped with professional soundproof and dust-proof strips at the bottom, which can effectively isolate the sound from the ground. It also has light-proof, dust-proof, insect-proof, and wind-proof functions.

Sound insulation strips are a device specifically designed to improve the sound insulation of doors, which can effectively absorb and isolate noise. Installing sound insulation strips requires professional operations. BLOSSOM CHEER has already made the openings during production. Installing gradients on site can greatly improve the sound insulation effect of the room.
● Perform Sound Absorption Treatment

Install sound-absorbing panels on the walls around the door or at careful locations in the room.Use sound-absorbing materials to make curtains, carpets, etc. to reduce the reflection and transmission of sound.
Panel & Frame 45-Degree Angle-Cut Magnetic Strip Process
BLOSSOM CHEER Hotel Door Bottom Sound Insulation Strips
Durable & Heavy Duty Invisible Hinges
Convenience Electronic Hotel Lock & Key Card System
Bolt & Related Whole Set Hardware
Wide Angle Peephole(With Smart Type Link With Lock)
Security For Star Hotel Solutions
Electronic Key Card Systems
Modern five-star hotels often opt for electronic key card systems. These systems offer:
Enhanced Security:

Lost cards can be easily deactivated, minimizing security risks

Guest Tracking:

Monitoring guest entry and exit for added safety

Customization:

Cards can be branded and programmed for various access levels

Convenience:

No physical keys to carry; cards fit in wallets
Biometric Access Control
For the utmost security, some hotels employ biometric access control:
Fingerprint Scanners:

Uniquely identify guests and staff

Iris Recognition:

Highly secure and contactless entry

Enhanced Privacy:

Biometric data is difficult to duplicate
Soundproof And Privacy For Star Hotel Solutions
Soundproofing
To ensure a peaceful stay, soundproofing measures can be taken:
Thicker Doors:

Using heavier materials and thicknerto block noise

Weather Stripping:

Sealing gaps around the door

Double Entry Doors:

An additional layer for enhanced soundproofing

Acoustic Insulation:

Absorbing sound within the room
Privacy Indicators
Guests appreciate privacy indicators like:
Do-Not-Disturb Signs:

Communicating the desire for privacy

Peepholes

Allowing guests to see outside without opening the door

Doorbell and Intercom:

Safe communication with outside.
Accessibility And Convenience For Star Hotel Solutions
Automatic Sliding Doors
For guests with mobility challenges, automatic sliding doors are ideal:
Wheelchair Accessibility: Easier entry and exit.
Touchless Entry: Reduces contact points for hygiene.
Impressive Technology: Adds a futuristic touch to the room.
Smart Lock Systems
Smart locks offer convenience and control:
Remote Access: Guests can unlock doors with their smartphones.
Keyless Entry: No need for physical keys.
Integration With Room Automation: Lights, temperature etc. can be controlled.
FAQs For Star Hotel Door & Window Solution
How can room doors enhance the overall guest experience?

Room doors can enhance the guest experience by providing a warm welcome, personalization, and easy navigation.


Are biometric access control systems safe for guests?

Biometric access control is secure and enhances guest safety, as it's difficult to duplicate biometric data.


What privacy solutions do luxury hotels offer?

Luxury hotels often have soundproofing measures, privacy indicators, and high-quality materials in place to ensure privacy.


How can hotels maintain the aesthetics of their room doors?

Hotels can maintain aesthetics through custom designs and the use of luxurious materials.


Are electronic key card systems safe in hotels?

Electronic key card systems are highly secure as they can be easily deactivated if lost, reducing security risks.

Contact Now & Make Your Star Hotel Door & Window Solution
BLOSSOM CHEER is the ideal partner to provide a full service of star hotel door and window project solutions for global agent. We work closely with our partners to build winning business and help boosting business together.
General Information We Need
Project door size and quantity list, refer drawing or door style
Share What Customize You Want
Like design, color, materials etc., better share your refer drawing
Further Deep Details
Project positioning, construction progress, procurement plan, budget and other details, more specific information can help to make professional solutions.
Contact For FREE Customization Proposal
Contact For FREE Customization Proposal