WPC (Wood Plastic Composite) Door
The highest goodness is like water, water benefits all things without fighting. It can coexist harmoniously with water, even if it is kept in water, there is still no quality concern.

WPC Door Advantages And Features
Environmental friendly
No Glue & Zero Formaldehyde; Meet E0 (European Union) Standard
Waterproof And Moisture-Proof
0.1% Water Absorption; More Higher Than National Standard 0.5%
Flame Retardant
Not Support Combustion In Case Of Fire, Automatically Extinguishes After Leaving Fire
Insect-Proof And Mildew-Proof
Top Level Antibacterial Durability (Grade), Antibacterial Rate Reached >99.9%
Stable Without Deformation And Cracking
Formed Under High Temperature & High Pressure & Vacuum Conditions
WPC Door Structure And Material Demonstration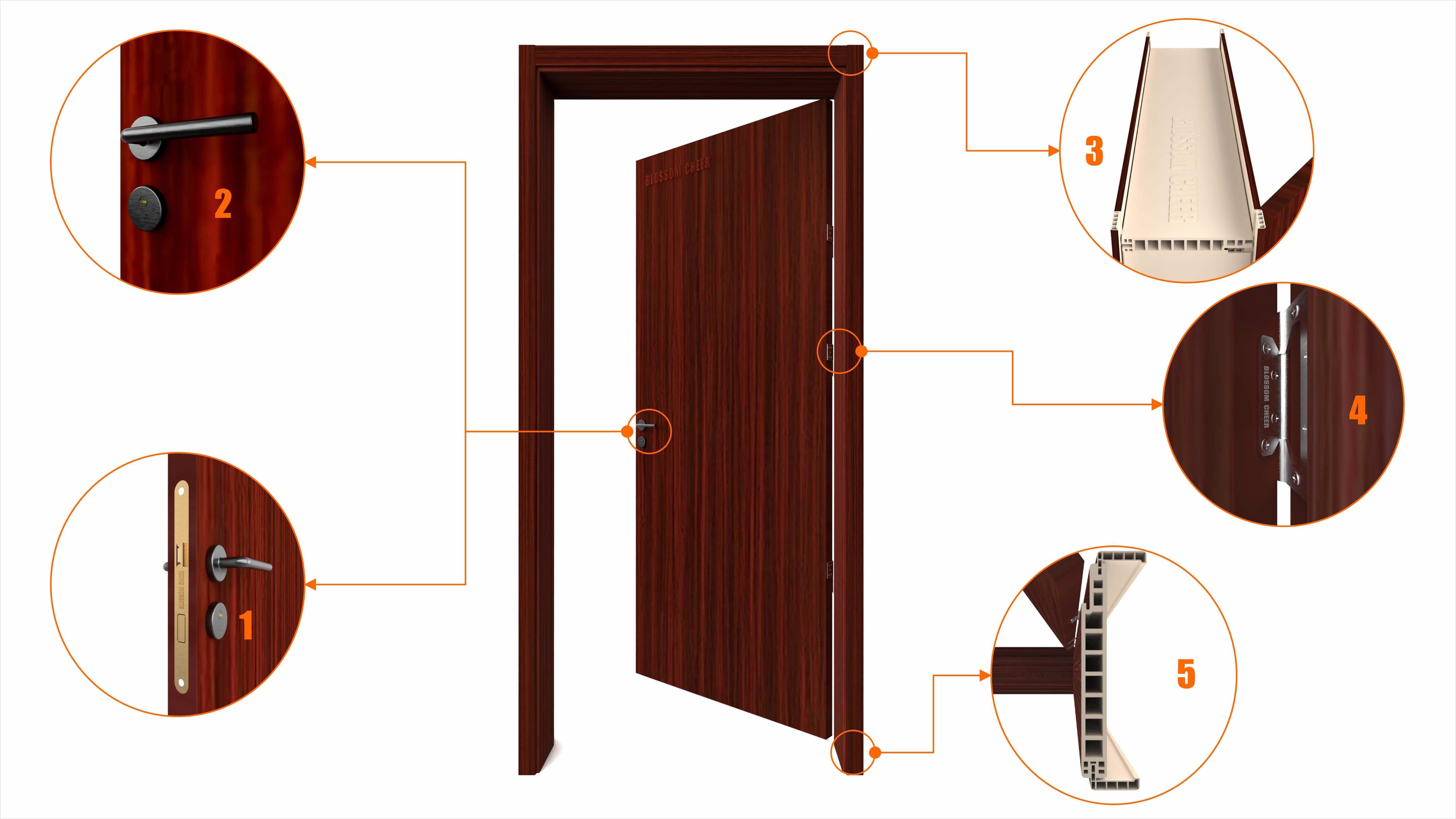 The overall structure of the door is made of pure wood-plastic material. At the same time, we recommend the use of hardware materials with better anti-oxidation, such as 304 stainless steel. Wood-plastic doors can be used in offshore areas with high humidity and salt, as well as in the Middle East with hot climate.
Standard Wood Plastic Structure
Door Leaf Interior Filled With Wooden Strips/Foam Cover
Filled WPC Strip & Foam Structure
Filled Full WPC Strip & Foam Structure
Door Frame And Door Casing Structure
Door Frame Corner Docking Demonstration
Hinge (Flat Hinge, Flag Hinge Optional)
Modern Lock (With More Options)
Test Report & WPC Door Catalogue
1. VIP Download With Password
2. New User Click File & Send Email For Help
WPC Door Basic Information

Aug 31,2023

WPC Door Inspection Report

Aug 31,2023

PVC Foam Resin Door Inspection Report

Aug 31,2023

Antibacterial Properties & Antibacterial Durability Report

Aug 31,2023
WPC Door Production Process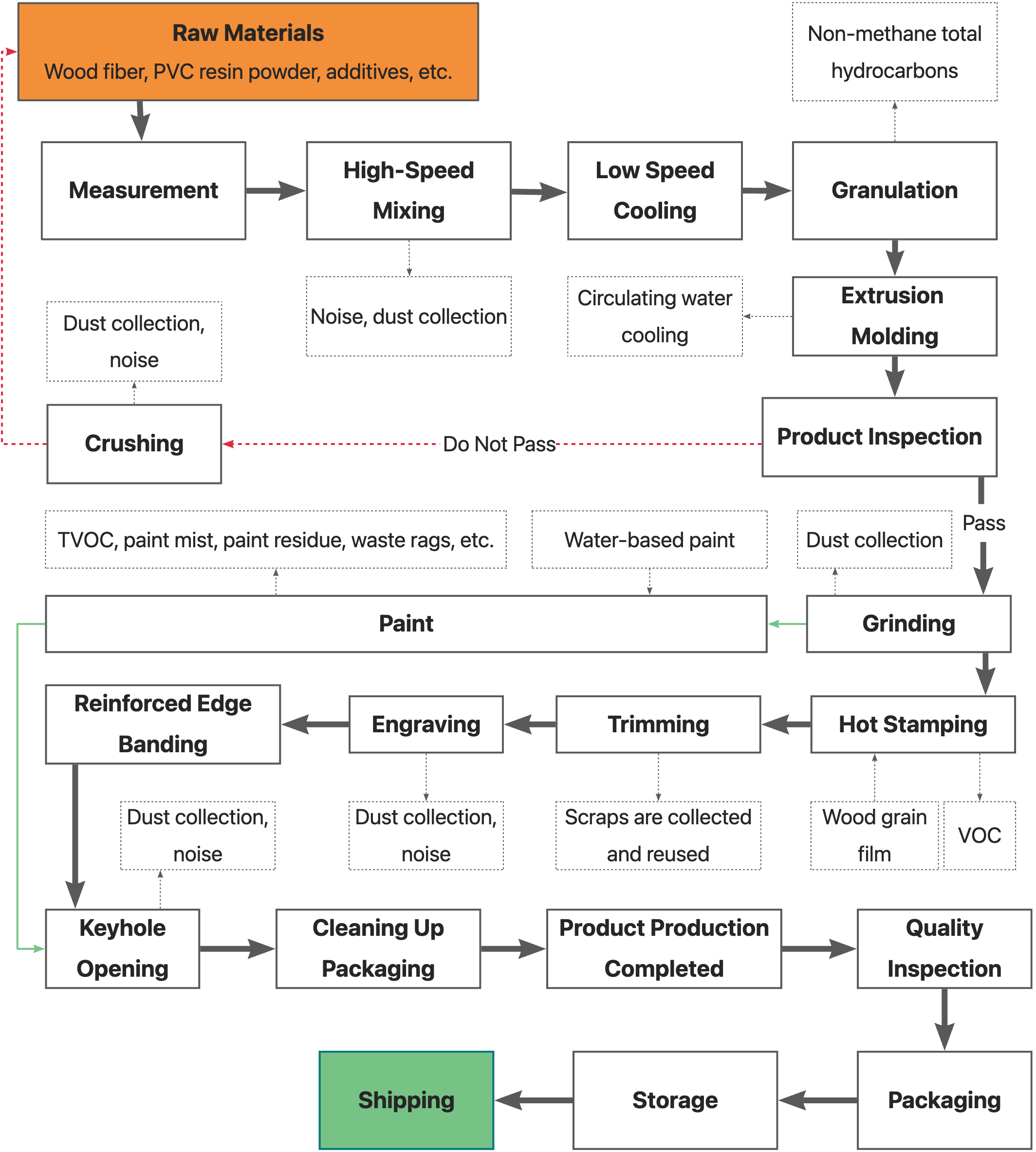 1. Raw Materials
2.Measurement
3.High-Speed Mixing
4.Low Speed cCooling
5.Granulation
6.Extrusion Molding
7.Product Inspection
8.Grinding
9.Hot Stamping
10.Trimming
11.Engraving
12.Reinforced Edge Banding
13.Keyhole Opening
14.Clean Up Packaging
15.Product Production Completed
16.Quality Inspection
17.Packaging
18.Storage
19.Shipping
Custom Height And Width Parameters Of WPC Doors
WPC Door Custom Height

Specification

1. door panel standard height: 2050mm

2. door panel standard width: 700mm, 800mm, 900mm

3. door panel standard height: 2400mm

4. door panel standard height: 2800mm

WPC Door Width Selection

Standard Width

9-700mm;
11-800mm;
13-900mm.

Non-Standard Width

1-300mm;
2-350mm;
3-400mm;
4-450mm;
5-500mm;
6-550mm;
7-600mm;
8-650mm;
10-750mm;
12-850mm;
14-940mm;
15-980mm;
16-1020mm;
17-1060mm;
18-1080mm.

WPC Door Frame Width Parameter

A、B

Enlarge the size and details of the gong groove (snap into the door sleeve), and explain it with parameters.

Specification

1-This is the area for door panel, the width is around 45-48mm(=1.77-1.89inch);
2-this is 10mm(=0.39inch) thick, the part can stop door open, it also will with the rubber to make quieter when closing the door, and the air tightness will be better;
3-the width size are 100mm;
4-the width size are 140mm;
5-the width size are 180mm;
6-the width size are 220mm;
7-the width size are 260mm;
8-the width size are 300mm;
9-The thickness of the frame area which touch with door panel, with 20-22mm(=0.787-0.86inch) thick;
10-The width of the groove, it is around 7-8mm(=0.275-0.31inch) width;
11-The width of the groove, it is around 15mm(=0.59inch) width;
12-the thickness is 8mm(=0.31inch);
13-The total thick of door frame, mostly around 33-35mm (=1.29-1.37inch);
14-The depth of the groove, mostly it is 23-25mm(=0.9-0.98inch) it decide how depth of the door casing (also call door architrave), it also If the wall thickness on site is thicker, you can also adjust the depth of the door casing to match the installation needs;
15-The width of the groove, it is around 7-8mm(=0.275-0.31inch) width.
About WPC Door Project Customize Service
Height customize:

Yes, support

Width customize:

Not supported. You can only choose from regular widths.

Foam interior padding:

Yes, support. MOQ from 150 set doors.

Padding inside wooden strips:

Yes, support. MOQ from 150 set doors.

Color card sample production time:

4-7 days

Color card sample fee:

Yes, charge. Old customers are free
Door sample production time:

7-15 days

Door small sample fee:

Yes, charge

Online design support:

Yes

Color customize:

14 standard colors optional. Colors can be customize from 150 set doors.

Internal structure customization:

Not supported. The structure is a fixed standard, subject to influences molds.
WPC Door Maintenance And Precautions
Not Suitable For Hanging Heavy Objects

It is not advisable to hang heavy objects on the door leaf. Otherwise, the door leaf will be skewed and the service life of the WPC door will be shortened.

Avoid Scratches

Do not use sharp objects to scratch the surface of the door panel. The surface of the door panel is generally processed specially. If the surface is scratched during use, it will greatly affect the overall appearance.

Avoid Corrosion

Do not splash corrosive solvent products on the door leaf and door lock. These will cause damage to the surface of the WPC door.
During Installation

When painting the walls, avoid painting the wall paint to make the door finish materials peel off and fade, which will affect the overall appearance.

Avoid Prolonged Direct Sunlight

WPC doors are not afraid of water, but if they are exposed to the sun for a long time, the raw materials will volatilize; if they are transferred or laminated, they will peel and crack. Therefore, WPC doors cannot be used outdoors, especially in places that are exposed to the sun for a long time.
What is WPC Door?

It is made by mixing superfine wood powder and polymer resin through molding process. It has both the excellent characteristics of wood and plastic, and the products produced have achieved the effect of real imitation wood. Since the raw materials used and the production process are not glued together, no harmful substances such as formaldehyde, benzene, ammonia, and polyethylene will be produced. It is a green and environmentally friendly new material that replaces traditional wood.


Is the WPC door healthy?

The raw materials used in WPC door are formed under high temperature, high pressure and vacuum conditions. The material does not contain formaldehyde. The heat transfer technology is used in the secondary processing, free of paint, and no toxic and harmful gases and odors are released during production and use, so it is a human-friendly product that meets the environmental protection standards of modern interior decoration.


What is WPC door application?

Waterproof, moisture-proof, anti-corrosion, mildew-proof, insect-proof, non-deformable WPC products have dual characteristics of wood and plastic, so WPC suit doors are not only used for indoor doors, but also suitable for places with large temperature differences, humidity, and poor ventilation , such as wet toilets, need anti-corrosion, mildew-proof, moth-proof storage rooms, etc.


Why can WPC doors be waterproof?

The molecular-grade resin powder contained in WPC door, after high-temperature foaming, completely wraps the wood powder to isolate water molecules. The water absorption rate of wood is about 12%, and the water absorption rate of WPC doors is less than 1%. Basically does not absorb water. The water absorption rate of BLOSSOM CHEER's WPC door is 0.3%, which is absolutely waterproof, and can even be used directly in water for a long time.


Why can WPC doors can flame retardant?

Since the WPC door is manufactured under high temperature and high pressure environment, it will not support combustion when it encounters fire, and has good flame retardancy and other characteristics. It should be noted that flame retardant does not mean that it can be used as a fire door. In case of fire or other situations, the WPC door is easy to soften when encountering high temperature, so it cannot be directly used for fire doors.


Why is it said that WPC doors are healthy and environmentally friendly?

WPC doors are not mixed with any glue adhesives during the production process, so there will be no toxic and harmful substances such as formaldehyde, benzene, ammonia, etc., and it is a new green and environmentally friendly material. In our national standard, the standard requirement is ≤1.5mg/L, and the detection structure of BLOSSOM CHEER is ≤0.2mg/L, which also meets the EO level standard (European environmental protection standard), so the product is very standard and healthy. For more information, please refer to our test report.

Contact Now & Talk Your WPC Door Project
BLOSSOM CHEER is the ideal partner to provide a full service of customize wpc door for global agent, with very good cooperate with South Asia & Middle East martket. We work closely with our partners to build winning business and help boosting business together.
General Information We Need
Project door size and quantity list, refer drawing or door style
Share What Customize You Want
Like design, color, materials etc., better share your refer drawing
Further Deep Details
Project positioning, construction progress, procurement plan, budget and other details, more specific information can help to make professional solutions.
Contact For FREE Customization Proposal
Contact For FREE Customization Proposal